10 Questions with Jill Arrington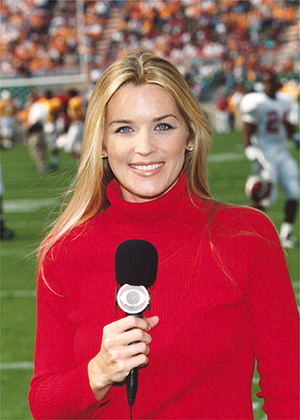 The most exciting part of the game.

Jill Arrington is the only member of CBS' The NFL Today coverage team who can wear a tank top and get cheers (sorry, Mike Ditka).

She joined CBS Sports for that show, and as lead reporter for the CBS Television Network's coverage of college football, in September of 2000, and her notoriety quickly grew.

She was named "Sexiest Sportscaster in America" by Playboy.com, last January. 221,760 votes were tallied for the ten contestants. Arrington captured 26 percent of the vote (57,643 votes -- over 6,000 more than her closest competitor, Melissa Stark of Monday Night Football). Playboy offered Jill $1,000,000 to undress before the camera. Although Jill was flattered, she turned them down.



"Sexiest Sportscaster in America"

Playboy.com Final Results
221,760 total votes

Jill Arrington
57,643
26%
Melissa Stark
51,574
23%
Hannah Storm
30,254
14%
Bonnie Bernstein
21,839
10%
Jillian Barberie
20,645
9%
Inga Hammond
11,393
5%
Lisa Guerrero
11,069
5%
Summer Sanders
10,133
5%
Pam Oliver
5,001
2%
Angie Arlati
2,209
1%
John Madden
0
0%
Dennis Miller
0
0%
Mel Kiper, Jr.
0
0%
The contest was criticized by the likes of Sports Illustrated as being exploitative (this from a magazine with a special "swimsuit issue" every year), but the contestants all found it pretty funny (especially a very pregnant Hannah Storm). Nobody was more amused than Jill: "I took it all in fun. It was just a contest to get people to go to their Web site," she said. "You know, men will be men and boys will be boys. I don't have a problem with it. I don't feel like what I look like has anything to do with my ability as a sportscaster. It's flattering to be called sexy. What woman doesn't like to hear that. It wasn't a contest I entered myself and it really had no bearings on me. [Playboy] knew all along that if I won, I wouldn't participate in posing for the magazine."
Arrington also works as a reporter/host of TNN and ESPN's coverage of the Arena Football League. She has also served as host of Fox Sports' "NFL Under the Helmet" and as a reporter for FOX Sports' coverage of the NFL and women's tennis.
But despite all of the "overnight sensation" stuff you hear, she has paid some dues.

Jill was born as "Tiffany" Arrington, a name that her friends and family still call her by. Her father, Rick Arrington, played quarterback for the NFL's Philadelphia Eagles from 1970-73, so even as a child she knew a lot about football.
She began her career as a production assistant at CNN. From 1994 through 2000 she worked as a producer/correspondent for "Main Floor." In 1999 she worked as a producer/reporter for "Real TV," as well as afternoon and evening anchor of "ReporterTV.com," a daily Internet entertainment business show.
After that, there was no stopping her. Today she prowls the sidelines of NFL games, carrying on the pro football legacy that began with her father.
---
TEN QUESTIONS (PLUS ANOTHER SIX)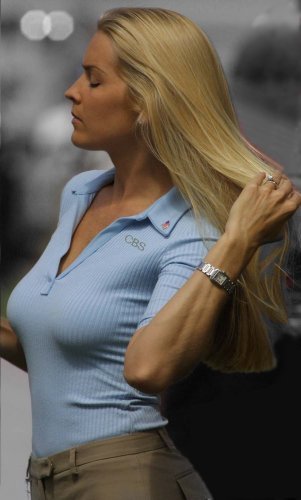 Let's face it: If you have a problem with a sportscaster looking like this, you're just sick.

SportsHollywood: What's your favorite sport?

Arrington: My favorite sport to watch would be football.

SportsHollywood: What's your favorite sports movie?

Arrington: The Natural, with Robert Redford. I love that movie.

SportsHollywood: What sports do you play?

Arrington: I began playing tennis at age three, and grew up playing in tournaments. I also played softball for ten years. My father was the coach. Now I play more golf than anything. Sports was always, and always will be, a part of my life.

SportsHollywood: How did you did you get started in broadcasting?

Arrington: I performed in theatre growing up; spring musicals, one-act plays. In college I was a Broadcast Journalism and Political Science major, with a Theatre minor. After a couple of years in college I started focusing on broadcasting, producing and anchoring the university news.

SportsHollywood: Favorite football team?

Arrington: THE MIAMI HURRICANES!!!

SportsHollywood: Favorite athlete?

Arrington: Michael Jordan. It's hard not love the best.

SportsHollywood: What's the biggest difference between the NFL and Arena Football?

Arrington: They're very different games. The biggest difference is that in Arena Football most players play both ways. The NFL players who come out and watch it are shocked. They'd just get killed if they had to play both ways. In Arena they play all balls live off the nets. The other big difference is that there's no sideline, so I have to be ready to dive over the wall if a play is coming at me!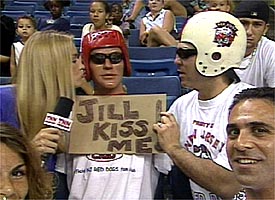 We wore the same masks to the interview (didn't work).

SportsHollywood: Who are your favorite sports analysts?

Arrington: I like Jim Nantz a lot. Very professonal, and very knowledgable. As for female sportscasters, so many great women have laid the groundwork for us today that being a woman in broadcasting isn't even an issue anymore. I just try to be myself: Being an athlete, having been in competition, and being the daughter of an NFL player, I can bring all I've learned from my experiences to the viewers, and hopefully make the game more understandable and entertaining.

SportsHollywood: Does it bother the players that more fans are staring at you than at them?

Arrington: (Laughing) I don't think that's true!

SportsHollywood: Ever have any close calls on the sideline during play?

Arrington: Sure, all the time! As soon as you turn your back you're getting trampled on!

SportsHollywood: Who is the best person to interview in the NFL?

Arrington: I interviewed Brett Favre, and was very impressed. He respects the media and knows the game. (Giants Defensive End) Michael Strahan is hilarious to talk to. I have a great time interviewing him.

SportsHollywood: What's the greatest football game that you've ever seen?

Arrington: I covered Miami-Florida State last year. An incredible game. Of course, I don't know if I'd consider it the greatest game ever if Miami had lost.

SportsHollywood: Your dad's a former pro. Does he ever critique your TV analysis?

Arrington: He does. My parents are very supportive. My mom tapes every game, and my dad gives me tips before games.

SportsHollywood: You also covered the U.S. Open this year. Who is your favorite tennis player?

Arrington: I don't really have a favorite. I love all the young American guys coming up. And the competition on the women's side is incredible now, with the Williams sisters. Tennis is definitely back.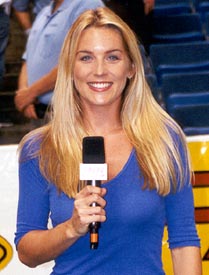 On TNN

SportsHollywood: Would you rather cover the US Open or win the US Open?

Arrington: WIN -- are you kidding????

SportsHollywood: I am asking this collectively for every male working at SportsHollywood and/or reading this interview. Will you marry us?

Arrington: I can't! I'm already married!!!

(Sorry, guys. We tried.)

As Jill says, it's hard not to love the best... and everyone loves Jill. You can see her every week on CBS' college football and NFL Today. So check back often for updates and upcoming events with Jill. If that's still not enough, JillArrington.com should be up in December.
Jill Arrington
Birthdate: July 27
Education: Rockdale County High; University of Miami (broadcast journalism and political science; varsity tennis; Orange Bowl princess)
Height: 5'10"
Hair: Blonde
Eyes: Blue
Home: Beverly Hills, CA.
'Ten Questions' Archive